So... what do you mean by Challenge?
We're glad you asked!
As legendary marriage researcher Dr. John Gottman said:
"It's the small things done often that make the difference."
The Legendary Love Challenge is a 7-day mini-course (less than 10 minutes a day) unlike anything you've ever done before. It's designed to help you do the little things, often.
Not only will we teach you the world's best relationship secrets, we'll also help you start taking action this week. To do this, the challenge has 3 really important pieces:
The Commitment
The Teaching
The Stake
Combined, these three pieces not only help you learn, but also start taking action today. That's where a challenge is different from a book, podcast, or online course. You take action.
Now, let's explain what we mean by each one:

When you participate in a challenge, you're not just "signing up" for a course; you're making a promise to take action.
Your promise in the Legendary Love Challenge is simple:
"This week, I, ______ (your name), promise to complete each of the 7 daily, 10-minute lessons. I can complete them anytime within the first 7 days of starting the course, but they WILL be all finished within 7 days of starting."
Once you've completed each lesson, simply fill out the exit survey and this challenge is completely free (we'll explain this more below)

---
---
That's it!

Since this is an introductory challenge, we decided to keep it simple. Just complete each lesson, and then fill out the survey on the final day. If you just follow through with that promise, you'll get a full refund. We'll explain why below :)

In order to create Legendary Love, you need to learn exactly how to improve your relationship.
So, how do you create Legendary Love?
Well, that's been our biggest question for the past half decade. And we've looked everywhere for the answer. We've spent tens of thousands of dollars on courses and workshops, created over 200 hours worth of podcast interviews with therapists, coaches, researchers, and authors, spent thousands of hours reading books and doing research...
And after all that effort, we've finally found what it takes to create Legendary Love.
So if you want to create Legendary Love too, this challenge will give you all the most important lessons it's taken us years to find.
Here's is what we'll cover in each of our ~10 minute lessons during this 7-day challenge:
---

On Day 1, you'll learn what separates normal couples from exceptional couples (and it's not just effort!). Most people put a lot of energy into improving their marriages, but it doesn't always change anything. It all boils down to "action over insights." We'll explain everything on Day 1, and how you can start applying that immediately.
---

On Day 2, we'll teach you all about The Growth Mindset. This principle will teach you how to completely change your approach and thinking if you're in a mediocre relationship. Growth Mindset is probably the most powerful secret you'll ever find to transform your relationship as a whole, and we can't wait to share it with you.
---

If you want to have Legendary Love, you need to learn the best relationship skills, habits, and practices possible. Day 3 teaches you all about the most effective way to learn. Most people turn to podcasts, books, or therapy to learn, but these don't work. We'll teach you why, and the powerful psychology that will change the way you approach learning.
---

Since creating Legendary Love requires a lot of growth, you need to learn how to make growth easier. On Day 4, we'll teach you how you can make growth far simpler by surrounding yourself with the right people. We adopt the ideas, habits, and behaviors of people around us, almost without thinking; why not use this to help transform your relationship?
---

On day 5 we're going to talk about accountability. From the time you were a kid, there's been someone there to hold you accountable for your progress. Your parents, teachers, coaches, and bosses. Your marriage needs a system of accountability or you will stagnate, and you'll suffer.
---

On day 6 we'll focus on Dr. John Gottman's famous quote that you've heard over and over this week. "It's the small things done often that make the difference." What are the small things? When should you be doing them? What difference will they make? This is the day you get the answers.
---

Over the last 6 days you've learned a lot, and hopefully you've applied even more! Day 7 will be a brief review, and some powerful advice to help you moving forward so you don't lose all the progress you've made. In the words of the great William S. Burroughs, "If you're not growing, you're dying."
---

Here at The 1% Club, we are dedicated to helping people create amazing love. But, nothing amazing happens without ACTION.
In fact, online courses everywhere have horrible completion rates across the board; people only complete about 6% of the courses they start.
We think 6% is far too low, especially when it's your marriage on the line. So we're here to completely change the way people approach online learning.
When you sign up for The Legendary Love Challenge, you're putting your money where your mouth is. You make a simple promise (as we showed above) and you attach a "stake," or a bet on yourself.
When you follow through with that promise, we'll give you 100% of the cost of the challenge back. All you have to do is click the "Complete and Continue" buttons as we've shown above.
That's it. Simply finish up the course, and it's totally free. If you don't finish, it's not.
Why do we do this? Well, that's easy: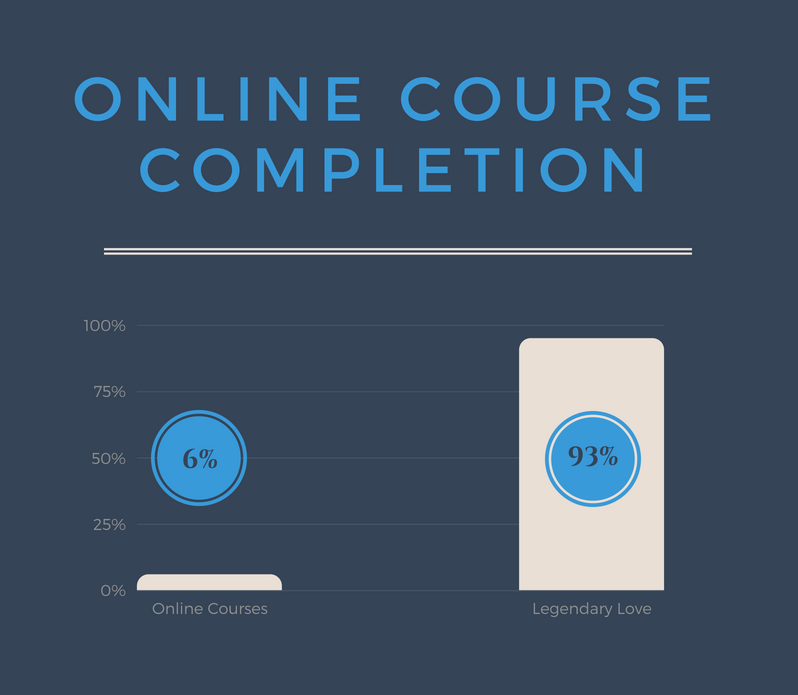 Our completion rate is more than 15x more effective at helping you complete the course. There are a lot of psychologists that have proved people are really, really motivated by the thought of losing something. You don't want to lose $60, do you?
Well you don't have to. Literally all it takes is 10 minutes a day, and your course is completely free. 93% of people that sign up get ALL of their tuition back.
Use this "stake" as a way to trick your own brain into taking action, now! No more putting off the relationship you've always wanted.
When Legendary Love is on the line, we will do everything in our power to help you make it a priority, now. And if that means giving you a full refund on this course, then we'll make that investment in your marriage :)
---
If you want Legendary Love, this challenge will transform your relationship.
This will teach you everything you need to start creating an amazing love, and to start growing into the couple you want to become.
And the best part? It's completely, 100% free to you if you simply complete it.
So, if you're ready to start taking action, sign up for The Legendary Love Challenge and start transforming your relationship today :)